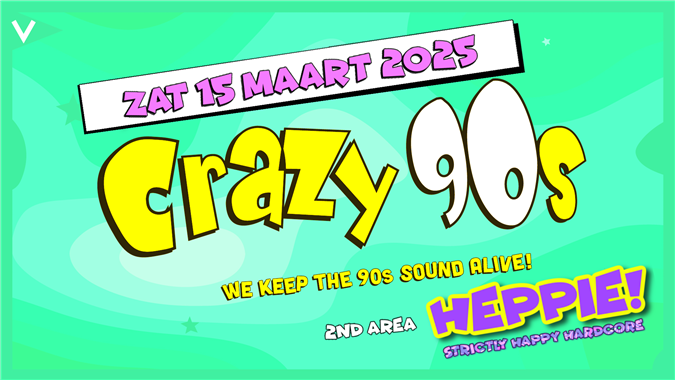 Venue
Podium Victorie, Alkmaar
Date
24-apr-2021 / 21:00 - 03:00
Event info
**verplaatst evenement**
CRAZY 90s live: Twenty 4 Seven feat. Nance, Jacks & Hanks
De verplaatste editie van dit knotsgekke en überpopulaire 90s-spektakel! De ultieme 90s-throwback komt zaterdag 24 april 2021 weer terug in Podium Victorie Alkmaar.
Komend jaar 2020 maakt Nance haar comeback met Twenty 4 Seven!!! Woohoo! Twenty 4 Seven ken je natuurlijk van monsterhits als: "Slave To The Music", "I Can't Stand It", "Is It Love" en "Take Me Away" en Nance was de original leadsinger van 1989 t/m 1996 en waarna ze solo verder ging. Maar de 90s-koorts is heviger dan ooit en dus heeft Nance besloten om samen met Jacks & Hanks het podium weer op te gaan met de 90s hitmachine: Twenty 4 Seven! En wie anders, dan CRAZY 90s heeft de primeur in Noord-Holland!!! J
Area 2 de beruchte Happy Hardcore Allnighter met Dj Ominous & Sequence! De mannen rammen de hele nacht al die fijne heppie hardcoreklassiekertjes, dus trek die Aussies en Maxxxies maar uit de kast!
Je begrijpt dat je deze absoluut niet voorbij mag laten gaan.. Check online ook onze voordelige 4- en 10Pack tIckets.
LIVE: TWENTY 4 SEVEN feat. NANCE
DVDJ DEVIOUS
DJ DNS Redbull Tre3style I Shit is Bangin' (90s r&b/hiphop)
Zaal 2: HAPPY HARDCORE ALLNIGHTER
OMINOUS & SEQUENCE Thunderdome I Pandemonium


CRAZY 90s::We Keep The 90s Sound Alive!

Grote + kleine zaal Podium Victorie/Min. lftd. 18+ (ID verplicht)
This is the official ticketshop for Crazy 90s. Order your tickets here and receive them directly.