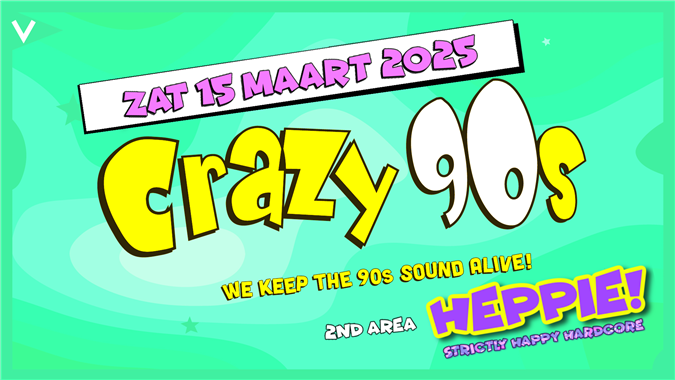 Venue
Podium Victorie, Alkmaar
Date
16-mrt-2019 / 21:00 - 03:00
Event info
Nieuwe editie van het populaire CRAZY 90s.
Zaterdag 16 maart kunnen liefhebbers van de 90's, helemaal uit hun dak gaan in Podium Victorie in Alkmaar tijdens Crazy 90s. Je kunt genieten van live optredens van echte 90's helden T-Spoon Reloaded (o.a. bekend van "Seks on the Beach" en "Mercedes Benz") en Jodi Bernal ("Que Si Que No"), dikke laser, mega ledscreens, knotsgek entertainment en de vetste '90's-Videoclips, monsterlijk aanelkaar gemixed door DVDj Devious. In de tweede area, de inmiddels beruchte, Happy Hardcore Allnighter met dj-duo Sequence & Ominous (Thunderdome).
Crazy 90s is één grote knallende hitmachine en staat bekend om de altijd uitbundige partysfeer! Presale is inmiddels gestart en de line-up wordt binnenkort bekendgemaakt.
Zaal open 21:00-03:00 uur. Min. leeftijd 18+ (ID verplicht). Zaal open: 21:00 -03:00 uur.
CRAZY 90s::We Keep The 90s Sound Alive!
This is the official ticketshop for CRAZY 90s Ticketshop. Order your tickets here and receive them directly.