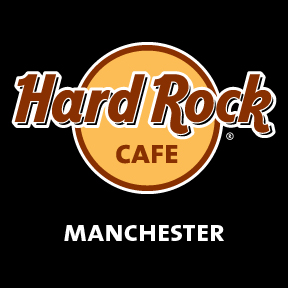 Venue
Hard Rock Cafe Manchester, Manchester
Date
08-jan-2019 31-mei-2020
Event info
Menu options below are available only at Hard Rock Cafe Manchester.
Receive a confirmed VIP table reservation when purchasing an online Rock Star Menu.
Rock Star Menus are valid for a minimum of 2 people and maximum of 8 people. For larger groups please contact the Manchester sales team at manchester_sales@hardrock.com
Bookings are prepaid and non-refundable.
Table seating is reserved for a two hour period.
MENU OPTIONS
'WHY DOES IT ALWAYS RAIN ON ME'
Including Welcome Cocktail and 3 course meal


'WONDERWALL'
Including Welcome Cocktail in Souvenir glass to take home, a city pin to take home and a 3 course meal
WELCOME COCKTAIL
Served upon arrival at your table
STARTER
APPETIZER PLATTER
Including tupelo chicken tenders, hickory-smoked
chicken wings and onion rings
CHOICE OF MAIN COURSE
NEW YORK STRIP STEAK
(+ £3 SUPPLEMENT CHARGE)
Served with herb butter, golden mashed potatoes and fresh vegetables
BABY BACK RIBS
Served with seasoned fries, ranch style beans and coleslaw
LEGENDARY® BURGER
Black Angus steak burger with bacon, cheese, crispy onion ring, leaf
lettuce and vine-ripened tomato. Served with seasoned fries
GRILLED SALMON
Served with golden mashed potatoes and fresh vegetables
CHICKEN CAESAR SALAD
Grilled chicken breast, fresh romaine tossed in a classic Caesar dressing,
topped with Parmesan crisps, croutons and shaved Parmesan cheese
VEGETARIAN OPTION
MOVING MOUNTAINS® BURGER OR VEGGIE FAJITAS
DESSERT
LIL HOT FUDGE BROWNIE
Due to the high demand and nature of our business tables are held for 15 minutes after confirmed reservation time. Failure to show up on time could result in joining our wait list and losing your time slot.