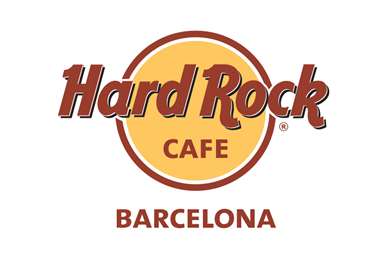 Venue
Hard Rock Cafe Barcelona, Barcelona
Date
27-okt-2019 / 10:00 - 12:00
Event info
¡Celebra con nosotros el desayuno más terroríficamente divertido de Halloween!
Como cada año, organizamos un brunch para disfrutar en familia el domingo antes de Halloween con un espectáculo para que los monstruitos de la casa se lo pasen en grande.
Este año, además, contamos con una novedad de lo más entretenida: un stand en el que podrás decorar tu rosquilla con diferentes tipos de chocolates y toppings. ¡Te animamos a que Halloween sea la temática de tus decoraciones!
Junto a las rosquillas, un completo desayuno con embutidos, pan con tomate, fruta fresca, dulces, huevos revueltos, bacon y un amplio surtido de bebidas (té, café, chocolate y zumos variados).
Por primera vez, contaremos con el divertido show 'Ciencia Monstruosa', con el que toda la familia se quedará sorprendida.
¡No olvidéis vuestro disfraz!
PRECIO:
Niños (a partir de 2 años hasta 11): 10,95 + gastos de gestión
Adultos: 17,95 + gastos de gestión
Si vienes con un niño menor de 2 años que necesite trona o espacio para el carrito, por favor coméntanoslo en el correo barcelona.events@hardrock.com.
Todos los tickets (tanto de la sala Main como de la sala Platinum) dan acceso al mismo menú y al mismo entretenimiento. La única diferencia es que la sala Main es la planta superior y la sala Platinum, la inferior.
Si tienes cualquier duda, por favor ponte en contacto con nosotros en el correo barcelona.events@hardrock.com.
Las mesas se irán asignando por orden de reserva.
*****************************
Celebra amb nosaltres l'esmorzar més terroríficament divertit de Halloween!
Com cada any, organitzem un brunch per gaudir en família el diumenge abans de Halloween, amb un espectacle perquè els petits monstres de la casa s'ho passin d'allò més bé.
Aquest any, a més, comptem amb una novetat molt entretinguda: un stand en el qual podràs decorar la teva rosquilla amb diferents tipus de xocolates i toppings. T'animem a que Halloween sigui la temàtica de les teves decoracions!
Al costat de les rosquilles, un complet esmorzar amb embotits, pa amb tomàquet, fruita fresca, dolços, ous remenats, bacó i un ampli assortiment de begudes (te, cafè, llet, xocolata i sucs variats).
No olvideu la vostra disefressa!
PREU:
Nens (a partir de 2 anys fins a 11): 10,95 + despeses de gestió
Adults: 17,95 + despeses de gestió
Si véns amb un nen menor de 2 anys que necessiti trona o espai per al cotxet, si us plau comenta'ns-ho al correu barcelona.events@hardrock.com.
Tots els tiquets (tant de la sala Main com de la sala Platinum) donen accés al mateix menú i al mateix entreteniment. L'única diferència és que la sala Main és la planta superior i la sala Platinum, la inferior.
Si tens qualsevol dubte, si us plau posa't en contacte amb nosaltres al correu barcelona.events@hardrock.com.
Les taules s'aniran assignant per ordre de reserva.
************************
Join us for the funniest Halloween breakfast!
One more year, we organize a brunch to enjoy with the family on Sunday before Halloween, with a show for our little monsters to have a great time.
This year, in addition, we have a very entertaining novelty: a stand to decorate your ring-shaped pastry with different types of chocolates and toppings. We encourage you use the Halloween inspiration to decorate yours!
Apart from the ring-shaped pastry, a full breakfast with sausages, bread with tomato, fresh fruit, sweets, scrambled eggs, bacon and a wide assortment of drinks (tea, coffee, chocolate and various juices).
Don't forget your costume!
PRICE:
Children (from 2 years up to 11): 10.95 + management fees
Adults: 17.95 + management fees
If you come with a child under 2 who needs a high chair or space for the cart, please let us know in the email barcelona.events@hardrock.com.
All tickets (both from the Main room and the Platinum room) guarantee the same menu and the same entertainment. The only difference is that the Main room is the upper floor and the Platinum room is the lower one.
If you have any question, please contact us at barcelona.events@hardrock.com.
The tables will be assigned by reservation order.