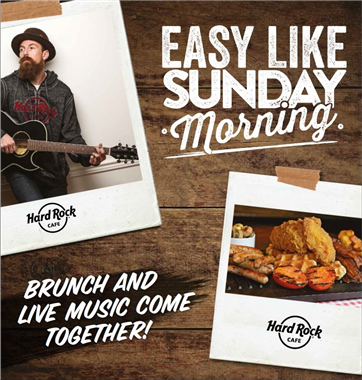 Venue
Hard Rock Cafe Edinburgh, Edinburgh
Date
26-mrt-2017 18-jun-2017 / 11:00 - 12:10
Event info
EASY LIKE SUNDAY MORNING
Menu options below are available only at Hard Rock Cafe Edinburgh. Menus and prices are subject to change.
Tickets are non-refundable and have to be pre-paid at the time of booking.
On Easter Sunday (16 April) there will be a special appearance of the Easter Bunny and all kids booked on the brunch menu will get a small present.
The classic American brunch menu will include tasty sharing platters for everyone to tuck into, with baked eggs, pancakes, waffles, crisp smoked bacon, Chipolata sausages, cowboy beans, southern fried chicken, Southwest potatoes, tomatoes and mushrooms.
Guests will get the choice of 2 Mimosas or 2 Bloody Marys (over 18's only).
Meanwhile, you will be listening to some live acoustic music.
Tickets:
£22.95 per person including 2 Mimosas or Bloody Marys
£17.95 per person brunch menu only
£7.95 per child up until the age of 10, including a kid's fruit juice or milk
Due to the high demand and nature of our business tables are held for 15 minutes after the confirmed reservation time.
Groups of more than 6 people will be seated at adjacent tables.
Failure to show up on time could result in losing your time slot and joining our wait list.