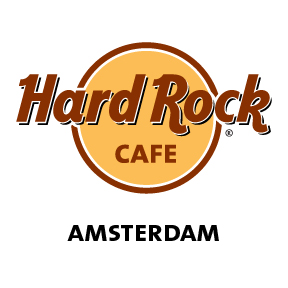 Venue
Hard Rock Cafe, Amsterdam
Date
01-mei-2016 30-dec-2017 / 00:00 - 00:00
Event info
Rock Star Menus are available only at Hard Rock Cafe Amsterdam location. Menus and prices are subject to change.
Receive a confirmed VIP table reservation when purchasing an online Rock Star Menu.
TABLE SEATINGS ARE FOR A TWO HOUR PERIOD
Select from:
'I WANT TO RIDE MY BICYCLE' €49.50 INCLUDING WELCOME COCKTAIL & 2 LARGE DRAFT BEERS OR 2 GLASSES OF WINE PER PERSON
'LIGHT MY FIRE' €59.50 INCLUDING WELCOME COCKTAIL & UNLIMITED DRAFT BEER FOR 2 HOURS
'SMOKE ON THE WATER' €69.50 INCLUDING WELCOME COCKTAIL & UNLIMITED DRAFT BEER & UNLIMITED WINE FOR 2 HOURS
Welcome Cocktail
Served upon arrival at your table
Drinks
Unlimited Soda is included (Drink packages and prices indicated above)
Starter
Appetizer Platter: including Tupelo Chicken Tenders, Hickory-Smoked Chicken Wings, Onion Rings and Bitter Ballen
Choice of Main Course
New York Strip Steak
Served with maître d' butter and served with fries and seasonal veggies
Bar-B-Q Ribs
Served with seasoned fries, ranch beans and homemade coleslaw
Legendary Burger
Topped with bacon, cheese and an onion ring and served with fries
Grilled Salmon
Served with golden mashed potatoes and seasonal veggies
Vegetarian Option
Veggie Fajitas or Veggie Burger
Dessert
Hot Fudge Sundae
Due to the high demand and nature of our business tables are held for 15 minutes after confirmed reservation time, groups of more than 6 guests will be seated at adjacent tables. Failure to show up on time could result in joining our wait list and losing your time slot.
Please note: Bookings are prepaid and non-refundable.