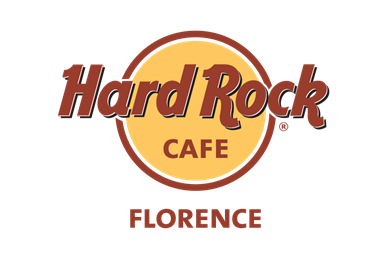 Venue
Hard Rock Cafe Florence, florence
Date
23-feb-2018 / 19:30 - 23:30
Event info
Welcome To The Machine - Antipasto (da condividere, servito ogni 2 persone):
Breath - Tagliere Toscano
Una selezione di specialità toscane:
Prosciutto crudo, Salame toscano, Finocchiona Antica, Macelleria Falorni ed una selezione di pecorini.
The Great Gig In The Sky - Piatto principale a scelta tra:
Shine On You Crazy Diamond - Original Legendary burger
Servito con bacon affumicato, formaggio Cheddar, un anello di cipolla fritta dorata, croccante lattuga e pomodoro.
Learning To Fly - Hickory Barbecue Bacon Cheeseburger
Ricoperto con salsa BBQ, cipolle caramellate, formaggio Cheddar, bacon affumicato, lattuga e pomodoro.
Astronomy Domine - Java Lava
Il nostro burger di manzo di prima qualità speziato con sale al caffè, salsa piccante Java Lava fatta in casa, croccanti cipolle piccanti, formaggio Cheddar fuso, bacon affumicato, lattuga fresca e pomodoro. Guarnito con un peperoncino jalapeño fritto.
Another Brick In the Wall - The Big Cheeseburger
Ricoperto da tre fettine di formaggio a tua scelta tra Cheddar, American, Svizzero e Monterey Jack, servito con lattuga croccante, pomodoro e anelli di cipolle rosse.
Wish You Were Here - Veggie Leggie
Il nostro hamburger vegetarian ricoperto da funghi Portobello grigliati, zucchini, zucchine gialle e peperoni rossi arrostiti.
Servito in un panino tostato con maionese al limone, lattuga, pomodoro e dolci cipolle grigliate.
Any Colour You Like - Chicken Caesar Salad
Lattuga romana condita con la nostra salsa Caesar, pollo grigliato, il tutto servito con crostini all'aglio e scaglie di Parmigiano.
Set The Controls For The Heart Of The Sun - Classic Club Sandwich
Un petto di pollo alla griglia da 220gr, bacon affumicato croccante, lattuga fresca, pomodori maturi, ricca e cremosa maionese servito su pane ai cereali tostato.
Tutti i burgers sono serviti con patatine fritte.
Goodbye Blue Sky - Dessert:
Coming Back To Life - Hrc Ice Cream
Bevande:
Scelta tra Pepsi, Schweppes Orange, 7 Up o Acqua e 1 birra 12 once a persona
This is the official ticketshop for Hard Rock Cafe Firenze. Order your tickets here and receive them directly.